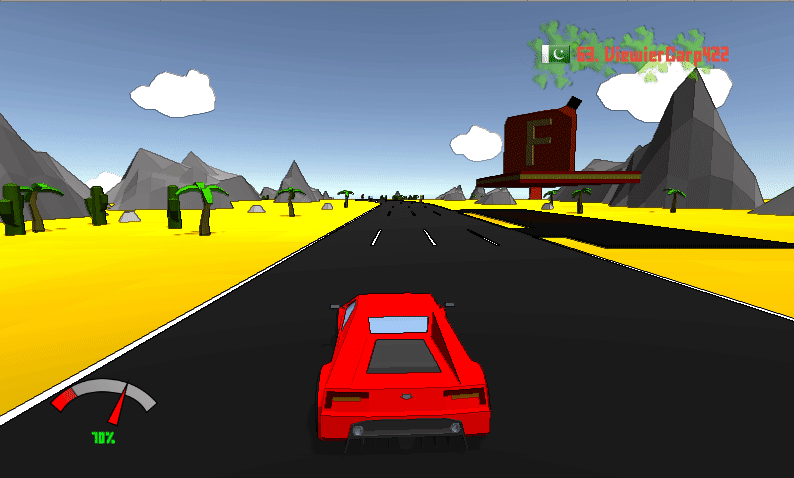 Pixel Driver - Fast paced infinite driving
Pixel Driver is a casual infinite driving game where you race in heavy traffic at high speeds. Crashing into cars is AWESOME since they actually break up into parts which let's you cause proper havoc!

Fluent and responsive controls let you dodge other cars at amazing speeds. Pick up coins to unlock new cars and don't run out of fuel. In our opinion this is a great way to learn how to drive :o)
Can you reach #1 on the Global rank?

FEATURES
☆ Only 1.99$, price will increase with each new release
☆ Super responsive controls
☆ 2 stages: Desert Cruising & City Madness (more will come in the future)
☆ Endless desert stage with 4 lanes.
☆ Endless city stage with 4 lanes and opposing traffic.
☆ 4 unlockable cars (more will come in the future)
☆ Retro low poly style
☆ Supports keyboard, gamepad, joystick or accelerometer input
☆ Cross-platform, works on Xbox One, PC and mobile devices (Windows Mobile & Android, iOS is planned)
Status
Beta
How to play
Use WASD to drive. The car consumes fuel every second, collect jerry cans to refueld or stop at gas stations. Don't crash or run out of fuel.

This game is no longer sold on Itch.io due to the lack for leaderboard support on this platform. You can buy the game on Steam, Xbox, PlayStation or Nintendo Switch. If you have previously purchased the game on Itch we can provide you with a steam key email support at prettyflygames.com
Feedback
Join our Discord server to discuss or provide feedback on the game.
Available on